Posts for: February, 2019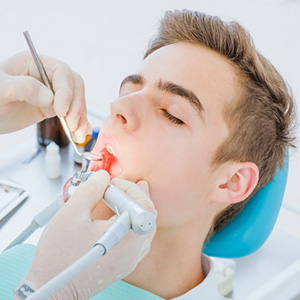 Long ago dental work could be painful and stressful—often for both patient and practitioner. Thankfully, that time is long past: today, most procedures are painless in large part due to local anesthesia.
Local anesthetics are numbing substances applied to specific areas of the body like the teeth and gums to temporarily block pain during a procedure. And because they only affect a localized area of the body, you remain conscious and alert throughout the procedure.
To achieve the level of numbing necessary for dental work, we often need to deaden the gums using a needle to deliver the anesthetic. But then this poses a secondary pain concern—the needle stick itself.
Again, topical anesthesia comes to the rescue in the form of a swab, patch or spray applying an anesthetic directly to the top layer of the gums at the injection site. This numbs the area and prevents you from feeling the needle stick. It's highly probable, therefore, that from start to finish you won't feel any discomfort during your dental work except perhaps for a little pressure.
Local anesthesia truly is a game changer for dental care—and not just for the patient. A dentist who's concerned about their patient's comfort level may work hurriedly to complete a procedure. But if their patient is relaxed, the dentist can work calmly and methodically. The result is better, more focused care.
For all its improvements in the patient experience, though, there has been one consistent complaint—the numbness that often lingers for a while after the procedure is over. But there have been advances in recent years that have helped reduce this irritation: new anesthetic agents (even some that can reverse the anesthetic effect) and fine-tuned dosages can help keep residual numbing to a minimum.
Not all procedures like routine teeth cleanings or enamel shaping require anesthesia. But when it's appropriate, local anesthesia can make your next dental visit much more pleasant.
If you would like more information on how anesthesia benefits your dental care, please contact us or schedule an appointment for a consultation. You can also learn more about this topic by reading the Dear Doctor magazine article "Local Anesthesia for Pain-Free Dentistry."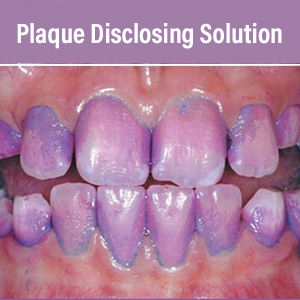 Brushing and flossing your teeth provides a lot of benefits, including a brighter smile and fresher breath. But the primary benefit—and ultimate goal—is removing dental plaque. This biofilm of bacteria and food remnants on tooth and gum surfaces is the number one cause for dental disease.
Brushing and flossing can effectively keep plaque under control. Unfortunately, plaque can be a stubborn foe, hiding in areas easily missed if you're not thorough enough.
So how do you know you're doing a good job brushing and flossing? One quick way is to use your tongue or dental floss to feel for any grittiness, a possible sign of remaining plaque. Ultimately, your dentist or hygienist can give you the best evaluation of your hygiene efforts during your three or six-month checkup.
But there's another way to find out more definitively how well you're removing plaque in between dental visits: a plaque disclosing agent. These over-the-counter products contain a dye solution that stains plaque so it stands out from clean tooth surfaces.
A disclosing agent, which can come in the form of tablets, swabs or a liquid, is easy to use. After brushing and flossing, you apply the agent according to the product's directions. The dye reacts with plaque to stain it a distinct color. You may also find products with two-tone dyes that stain older and newer plaque different colors to better gauge your overall effectiveness.
You then examine your teeth in the bathroom mirror, looking especially for patterns of missed plaque. For example, if you see dyed plaque running along the gum line, you'll know you need to concentrate your hygiene there.
After observing what you can do to improve your future efforts, you can then brush and floss your teeth to remove as much of the dyed plaque as you can. The staining from the dye is temporary and any remaining will fade over a few hours.
Using a disclosing agent regularly could help you improve your overall hygiene technique and reduce your risk of disease. Ask your dentist for recommendations on products.
If you would like more information on improving your oral hygiene, please contact us or schedule an appointment for a consultation. You can also learn more about this topic by reading the Dear Doctor magazine article "Plaque Disclosing Agents."