Posts for: May, 2017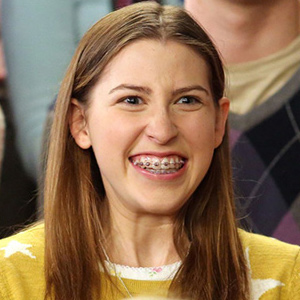 Fans of the primetime TV show The Middle were delighted to see that high school senior Sue, played by Eden Sher, finally got her braces off at the start of Season 6. But since this popular sitcom wouldn't be complete without some slapstick comedy, this happy event is not without its trials and tribulations: The episode ends with Sue's whole family diving into a dumpster in search of the teen's lost retainer. Sue finds it in the garbage and immediately pops it in her mouth. But wait — it doesn't fit, it's not even hers!
If you think this scenario is far-fetched, guess again. OK, maybe the part about Sue not washing the retainer upon reclaiming it was just a gag (literally and figuratively), but lost retainers are all too common. Unfortunately, they're also expensive to replace — so they need to be handled with care. What's the best way to do that? Retainers should be brushed daily with a soft toothbrush and liquid soap (dish soap works well), and then placed immediately back in your mouth or into the case that came with the retainer. When you are eating a meal at a restaurant, do not wrap your retainer in a napkin and leave it on the table — this is a great way to lose it! Instead, take the case with you, and keep the retainer in it while you're eating. When you get home, brush your teeth and then put the retainer back in your mouth.
If you do lose your retainer though, let us know right away. Retention is the last step of your orthodontic treatment, and it's extremely important. You've worked hard to get a beautiful smile, and no one wants to see that effort wasted. Yet if you neglect to wear your retainer as instructed, your teeth are likely to shift out of position. Why does this happen?
As you've seen firsthand, teeth aren't rigidly fixed in the jaw — they can be moved in response to light and continuous force. That's what orthodontic appliances do: apply the right amount of force in a carefully controlled manner. But there are other forces at work on your teeth that can move them in less predictable ways. For example, normal biting and chewing can, over time, cause your teeth to shift position. To get teeth to stay where they've been moved orthodontically, new bone needs to form around them and anchor them where they are. That will happen over time, but only if they are held in place with a retainer. That's why it is so important to wear yours as directed — and notify us immediately if it gets lost.
And if ever you do have to dig your retainer out of a dumpster… be sure to wash it before putting in in your mouth!
If you would like more information on retainers, please contact us or schedule an appointment for a consultation. You can learn more in the Dear Doctor magazine articles "The Importance of Orthodontic Retainers" and "Why Orthodontic Retainers?"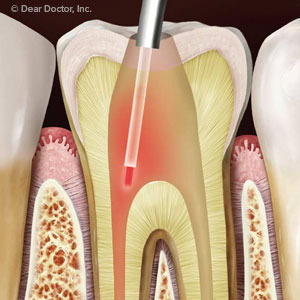 As in other parts of medicine, lasers are beginning to change the way we provide dental care. More and more dentists are using lasers to make earlier diagnoses of dental disease or provide surgical treatment. One area prime for change is the treatment of teeth with deep decay and in danger of being lost.
For decades now, the best way to save teeth in this condition is with root canal treatment. In this common procedure we access the pulp, remove the infected tissue with specialized hand instruments, and then fill and seal the pulp chamber and root canals with a special filling.
We can now potentially improve the efficiency and increase the success rate of this treatment with laser technology. With their focused light, lasers emit a concentrated burst of energy that's extremely precise. In many instances laser energy can remove the target diseased tissue without damaging nearby healthy tissue.
In this form of root canal treatment, we use lasers to remove tissue and organic debris within the pulp and then shape the root canal walls to better receive the filling. We can also utilize the heat from laser energy to soften and mold the filling, so that it better conforms within the walls of the root canals.
Using lasers in root canal treatments may require less local anesthesia than the traditional approach and also eliminates disturbing or discomforting sounds and vibrations. Dentists who've used the new technology also report less bleeding during the procedure and less pain and occurrences of infection afterwards.
But there are a couple of disadvantages for using lasers in root canal treatment. For one, light travels in a straight line — and many root canal networks are anything but straight. More complex root canal networks may still require the traditional approach. Laser energy could also increase the tooth's inner temperature, which could potentially damage tissues even on the tooth's outer surfaces.
Used in the right circumstances, though, lasers can be an effective means to treat diseased teeth. Â As laser technology continues to advance and becomes a mainstay in dental care, you may soon find it part of your next dental procedure.
If you would like more information on root canal treatments, please contact us or schedule an appointment for a consultation.