Posts for: May, 2015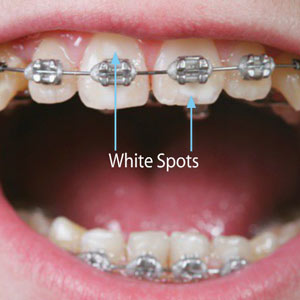 After months of treatment we've removed your braces and your new smile emerges. Upon closer view, however, you notice a number of chalky white spots on your teeth.
These pale areas are white spot lesions (WSLs), the result of mineral breakdown from the long-term contact of acid with the enamel surface. The underlying cause is built-up bacterial plaque due to inadequate oral hygiene, and as such WSLs are the beginning stages of tooth decay.
While anyone can develop WSLs, brace wearers are highly susceptible because of the extra care required to clean around orthodontic hardware. Poor dietary habits such as frequent snacking on sugary or acidic foods and beverages also increase the risk of WSLs.
To reduce the risk of developing this condition, brace wearers must give extra attention and effort to daily oral hygiene, including brushing and flossing. The extra effort required in brushing can be aided by specialized toothbrushes designed to clean around brackets and wires, along with prescription-level fluoride toothpastes for added enamel strength. Floss threaders or a water flosser, a device that uses pulsating water under high pressure, may help you maneuver around hardware to remove plaque between teeth. It's also important to maintain a healthy mouth environment by limiting intake of sugary or acidic snacks and beverages, avoiding tobacco or excessive alcohol or caffeine, and drinking plenty of water to keep your mouth from drying out.
If you've already developed lesions, it's important to stop the decay process before it causes more damage. One way is to assist your body's natural mechanism for re-mineralizing tooth enamel with fluoride pastes or gels or re-mineralizing agents, or undergoing micro-abrasion to repair a tooth's surface.
To improve a tooth's appearance a procedure known as "caries infiltration" involves injecting a liquid tooth-colored resin into the lesion, which is then hardened with a curing light. The spot becomes less noticeable and appears more like normal enamel. For extensive defects, conventional bonding with composite resins or porcelain veneers can be used to cosmetically cover the tooth.
Getting ahead of the problem with effective oral hygiene and good dietary and lifestyle practices will keep WSLs at bay while you undergo orthodontic treatment. If they do develop, however, there are ways to minimize their effect and restore the look of your teeth.
If you would like more information on dental care during orthodontic treatment, please contact us or schedule an appointment for a consultation.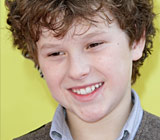 Nolan Gould, who plays Luke on the popular TV comedy Modern Family, has beautiful, straight teeth. But in an exclusive interview with Dear Doctor magazine, the young actor said it wasn't always that way.
"My teeth used to be pretty messed up," Nolan said. "I had two extra teeth when I was born. They hadn't come out (erupted) yet. And all the other teeth that were already there were starting to point backwards because it was getting so crowded in my mouth. At about the age of 7, I started going to the orthodontist to get my teeth checked."
Age 7 may sound early for a visit to the orthodontist, but in fact that's exactly the age we recommend for a first orthodontic evaluation. Malocclusions (bad bites) often become noticeable around this time, as the child's permanent (adult) teeth erupt. We might already be able to see evidence of the following problems: crowding, too much space between teeth, protruding teeth, extra or missing teeth, and sometimes problems with jaw growth. So even if your child is too young for braces, it is not necessarily too early for an orthodontic evaluation.
This type of exam can spot subtle problems with jaw growth and emerging teeth while some baby teeth are still present. Early detection of orthodontic problems makes it easier to correct those problems in the long run. Waiting until all of the permanent teeth are in, or until facial growth is nearly complete, may make correction more difficult or even impossible. That's why the American Association of Orthodontists recommends that all children get a check-up with an orthodontist no later than age 7.
Orthodontic treatment itself usually begins between ages 7 and 14. Therapy that begins while a child is still growing, often referred to as "interceptive orthodontics," helps produce optimal results. In Nolan's case, an early orthodontic evaluation allowed his orthodontist enough time to plan the most effective treatment. Nolan's two extra teeth were removed before they had a chance to push his other teeth even further out of alignment, and he was given orthodontic appliances which fit behind the teeth.
"You can remove them, which is really good for acting, especially because you can't see them. I can wear them 24/7 and nobody will ever notice."
One thing that is noticeable, however, is Nolan's perfectly aligned smile!
If you would like to learn more about improving tooth alignment with orthodontics, please contact us to schedule an appointment for a consultation. To read Dear Doctor's entire interview with Nolan Gould, please see "Nolan Gould." Dear Doctor also has more on an "Early Orthodontic Evaluation."