Posts for: April, 2015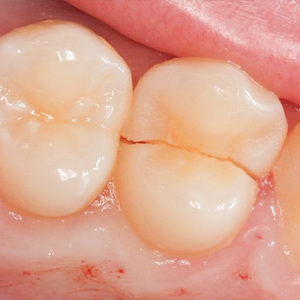 While most tooth loss stems from dental disease or injury, another major cause is a condition known as cracked tooth syndrome. What begins as a microscopic crack in an individual tooth's enamel could ultimately grow to a fracture that endangers its survival.
Most often related to age-related brittleness, expansion and contraction of the enamel surface because of hot foods followed by cold foods and beverages, or grinding habits, cracked tooth syndrome usually occurs in three phases. The first phase is the emergence of miniscule cracks in the outer enamel known as craze lines. These can be very difficult to detect even with x-rays, and usually calls for specialized detection methods such as probing with a sharp instrument (an explorer) or fiber-optic lighting with dye staining to highlight enamel abnormalities. If you have pain symptoms, we may ask you to bite down on a bite stick or rubber pad to locate the area by replicating the sensation.
In the next phase, the craze line grows into a crack that penetrates below the enamel into the tooth's dentin. Pain becomes more prominent and the risk of infection increases. Left untreated, the crack may enter the third phase, a full break (fracture) occurring deep within the inner layers of the tooth. The deeper the fracture occurs, the more serious the danger to the tooth, especially if the pulp is exposed.
The best treatment approach is to attempt to detect and treat a crack as early as possible. Craze lines and moderate cracks can usually be repaired with restorative materials like composite resins. A deeper crack extending into the pulp may require a root canal treatment and the tooth covered with a permanent, protective crown.
If, however, the fracture is too deep, the tooth may be beyond repair and will need to be extracted and replaced with a dental implant or permanent bridge. In any event, the sooner a cracked tooth is discovered and treated, the greater your chance of avoiding pain, discomfort, and, ultimately, tooth loss.
If you would like more information on cracked tooth syndrome, please contact us or schedule an appointment for a consultation. You can also learn more about this topic by reading the Dear Doctor magazine article "Cracked Tooth Syndrome."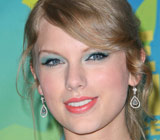 "Break a leg" is a well-known theatrical expression for wishing good luck to an actor about to go on stage. Singers should have one of their own…"Chip a tooth"! Apparently collisions between microphones and pearly whites are an occupational hazard for crooners. Taylor Swift became one of the latest casualties during a concert in Pittsburgh while belting out her hit "I Knew You Were Trouble." The consummate professional, she didn't miss a beat and kept on singing despite seeing a tooth chip hit the floor.
After all, while chipping a tooth is an inconvenience, it's not a permanent smile wrecker. Modern dentistry offers several options for restoring a damaged tooth to its original symmetry and luster, or even better!
Bonding
Dental cosmetic bonding is the quickest and lowest-cost option to repair a chip. This involves application of a composite filling material that is colored and shaped to match the original tooth. Bonding material can be used to replace the lost portion of tooth or to seamlessly reattach the lost portion if it has been preserved and is otherwise undamaged. Little to no removal of existing tooth surface is needed.
Veneers
A veneer can be used for slightly larger areas or discolored teeth. This is a thin, custom-made shell placed on the front of the tooth to give it a new "face." Some removal of existing tooth surface may be necessary to fit a veneer so it is flush with the surfaces of surrounding intact teeth.
Crowns
When a relatively large portion of the tooth is missing, a crown is often the better choice. It fully encases the visible portion of the remaining tooth above the gum line and is shaped and sized to match the original. It can be made of tooth-colored porcelain fused to metal crowns or all-ceramic (optimal for highly visible areas). A small amount of the existing tooth surface will be removed to allow the crown to fit over it.
If you would like more information about repairing a chipped tooth, please contact us or schedule an appointment for a consultation. You can also learn more about this topic by reading the Dear Doctor magazine article "Artistic Repair of Front Teeth With Composite Resin."